In the Winter of 2000 William "Norm" Norman first began homebrewing on a stove-top with a stainless pot, liquid malt extract, a few specialty grains crushed by a rolling pin, pellet hops and dry yeast.  He fermented the beer in a glass carboy and then bottled it with a corn sugar addition, yielding about two cases of bottled, naturally carbonated homebrew.  Gradually, bottles gave way to 5-gallon kegs, and liquid malt extract gave way to all-grain batches.  Eventually, 7-gallon stainless fermenters replaced the carboys, and brew sessions were carried out on a half-barrel Sabco Brew Magic system instead of on a stove.
Having worked with the Red Wing Family YMCA for several years, Norm came to admire and embrace the City of Red Wing for its people, its beauty and its history.  Through research at the Goodhue County Historical Society, he learned about the breweries that used to exist in Red Wing and felt that beer-making should once again be a part of the city's fabric.  He spent three years visiting and talking with professional brewers and brewery owners around the region (a camera and a written list of several questions were always along on these visits), a year writing the business plan, and a year-and-a-half raising capital and preparing the new Red Wing Brewery for opening day.  Finally, on December 6, 2012, the first brewery in Red Wing to open its doors in over 60 years welcomed a thirsty public, and the city regained a lost tradition.
Since then, the current Red Wing Brewery has grown from two employees to twenty and has more than doubled its beer production and inventory capacity.  The Brewery's menu has also evolved to feature handmade pizzas that incorporate local ingredients.  The development of the Brewery – from the first stove-top batch of homebrew many years ago to the first official pint served on opening day – was often arduous, but entirely worthwhile.  As Norm will tell you, nothing is more satisfying than seeing folks at the Red Wing Brewery enjoying good beer, good food, and good company.
The current Red Wing Brewing Company (or "Red Wing Brewery") was founded in 2011 – 60 years after the closing of the last brewery in Red Wing, Minnesota.  It is located in the old brewery district just up the street from the site of the original Red Wing Brewery (in fact, outside our front door, you would have been able to see the old brewery if it was still standing).
Our brewhouse is small (3 ½ barrels), even in comparison with the brewhouses of other small breweries in Minnesota.  We make about 6-7 barrels (bbls) of beer per week to keep up with a thirsty public.  Our beer is produced and sold exclusively at the brewery, which means that the beer in your glass is as fresh as possible.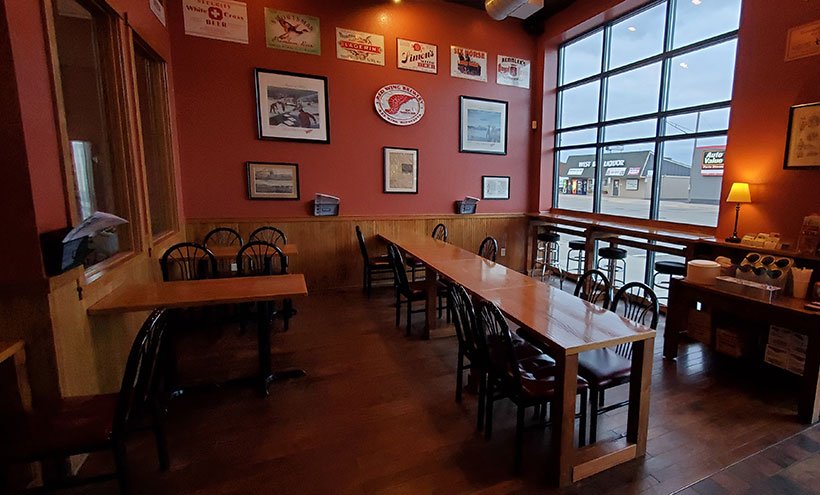 Three of our year-round beers are historic brands that were made for the people of Red Wing in the late 1800's and the early 1900's: Remmler's Royal Brew (based on the Remmler Brewery's 1896 recipe), Red Wing Premium Beer and Cokins Bavarian Red Wing Beer.  We are also bringing back another Red Wing favorite as our brewery's own Root Beer – Good Old Zimmie's.
On tap will be a rotation of additional beer styles that are new to Red Wing and favorites among craft beer lovers.  We also serve local wines, a variety of family beverages, and a dine-in or take-out lunch and dinner menu featuring handmade appetizers, pizzas and calzones.